About Drop Coffee
Welcome to Drop Coffee Roasters! We are a coffee roastery based in Stockholm, Sweden, since 2009. 
We at Drop Coffee are dedicated to really tasty and sustainably produced coffee, we visit all producers we buy coffee from. We are roasting the coffee carefully with complete focus on the sweetness and vibrancy of each unique coffee, always striving for a clarity in the coffee, without ashy roast flavours.
We are shipping coffee straight from our roastery every day, worldwide!
History 
Drop Coffee was founded in Stockholm, Sweden in 2009 as a coffee bar by Mariatorget, focusing on serving tasty coffee. We started roasting our own coffee in the back of the shop in 2010, on a one-kilo roaster. We started roasting for wholesale customers in 2012, when we moved into a proper roastery with a 25-kilo roaster. Recently we moved our roastery to Rosersberg, north of Stockholm. From June 2018 our roastery is certified organic.
Kalita has been supplying us with our favorite brewing supplies since 2013, when Drop Coffee became the Kalita supplier of Sweden.
Joanna Alm, managing director of Drop Coffee, is a three times Swedish Coffee Roasting Champion who has placed second in the world, and she is also the author of the book Manifest För Bättre Kaffe.
Where to buy our coffee - Private person 
Webshop: Ordering can be done from the page labelled Beans
Store: At our café, Drop Coffee at Mariatorget (Wollmar Yxkullsgatan 10) or at our wholesale partners around the world
Where to buy our coffee - Wholesale orders
Email us at info@dropcoffee.se for wholesale enquiries and prices. We are roasting Mondays, Tuesdays and Thursdays for our wholesale orders and shipping worldwide. 
Raw coffee buying and sustainability
We visit every producer we're buying from, and through a sustainability lawyer we have created internal guidelines and checklists to help us through the whole buying process. Most of the ingredients used at our café are local, produced by small scale producers and mainly organic.
Our origins of focus are Bolivia, Costa Rica, Nicaragua, Honduras, Guatemala, El Salvador, Ethiopia and Kenya.  We're crafting to perfection our preferred taste profile and maintaining our ethical business model with the producers. We only source fully transparent coffee from single farms and cooperatives, working with amazing coffee from people we like.
Drop Coffee is collected to the national union HRF. We are our roastery is certified organic and we are also hold the EcoVadis certification. 
Flavour and roasting style 
Drop Coffee has a flavour vision of a clear and bright cup where the origin of the coffee should shine through. We like to present as much of the coffees' acidity and sweetness as possible. Some coffees will be more acidic and juicy - and some creamy and chocolatey - depending on the origin, but all the coffees are roasted for clarity. The coffee has a light to medium roast profile, suitable for all brewing methods. 
Who 
Joanna Alm and Stephen Leighton are the owners of the company, with a current crew of 10 baristas and coffee roasters.
Competitions 
Current Swedish Barista Champion and Swedish Roasting Champion.
Part of our work is to attend competitions, such as the Roasting Championship. Since 2009 the staff working at Drop Coffee at said time, have won several titles.


Swedish Gastronomy award
2021
Swedish Gastronomy award
2019
Winner Swedish Roasters Championship
2014, 2015, 2018
Winner Swedish Latte Art Championship
2013, 2014

Winner Swedish Brewers Championship 
2013, 2014

Winner Swedish Barista Championship 
2011, 2013, 2015, 2018
White Guide
Coffee Bar of the year 2014
Coffee Bar of the year 2015
World Roasters Championship
3rd place 2014
2nd place 2015
4th place 2016

Articles about Drop Coffee 
Morgonstudion - Sveriges Television 2021 - Kaffetrender med Joanna Alm
Meny - Sveriges Radio. Så får du godare bryggkaffe 2020
Sprudgie Award 2013

Sprudge article 2013

Sveriges Radio
About us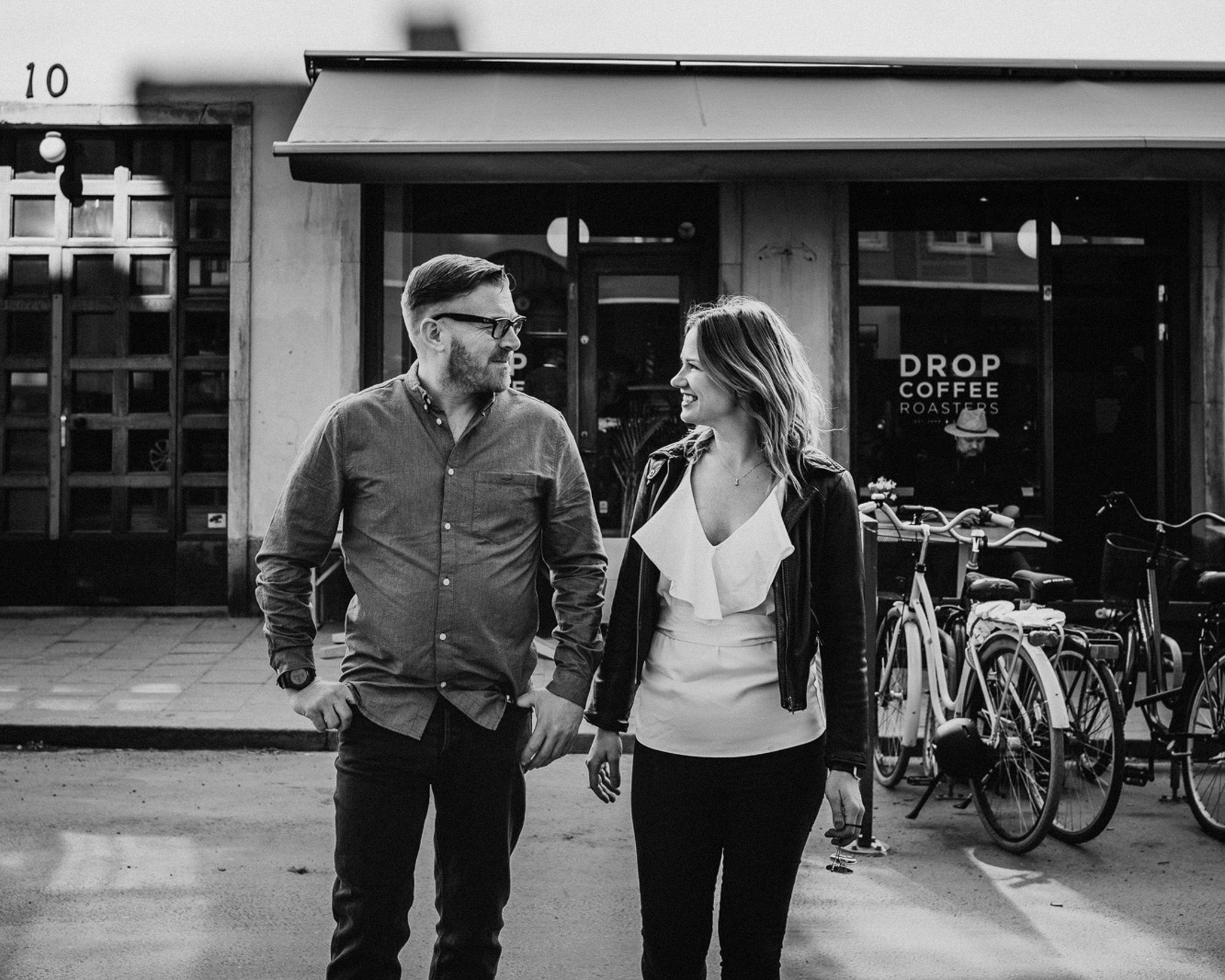 Find out more
Our roastery is located in Rosersbergs Industrial Area, a five-minute drive from Rosersberg train station. We have been roasting all our coffee on our turquoise 25 kilos Diedrich, since 2013.