New wholesale price list - colour and category
We have updated our wholesale price list to make it a little easier and more fun to order coffee. We all have different preferences and ways of making decisions and thinking about coffee. Therefore we are now adding more elements than the hard facts.
From now on you can make your coffee decision from 
- category
- colour
- flavour description and facts  
Category
The price list is divided into three categories; comfortable, curious and adventurous. 
The category will describe the coffees flavour characteristics from a "cafe visitors" perspective. I love all of our coffees, they are just different in taste profile based on varietal and growing conditions. All of the farmers or washing stations that Drop Coffee is buying from, we visit on a regular basis and are scoring the coffee a minimum of 86 points. 

In the Comfortable category, you will find nuttier and chocolatey coffees, smooth and easy to recognize. Keep in mind those are still the same high quality and it can be very difficult to find an amazing chocolatey coffee. 
The Curious category you will find coffee for the one who would like to discover fruitier or nuanced coffee, e.g. a more elegant and crisp Costa Rican coffee would go into this category. You want to discover a bit, but not go bananas. 
The one who likes high acidity Kenyan coffee, pulpier things or wants to spend money on a Gesha will find those in the Adventurous category. 
Colours
If you follow Drop Coffee you know we talk a lot of colours related to flavour. Often at the cupping table, we find Kenyan coffee being very purple or pink, or Hunkute from Ethiopia light-yellow. Working closely with professor Fabiana Carvalho we have got access to her research and also tried our coffee blindly based on flavours with a group of 50 roasters. According to this, the colour red is related to sweetness, green to a more mint and cooling experience, yellow to acidity and vibrancy etc.  
For Matt's World Barista Championship presentation this year we included this in his presentation as well. 
Flavour description and facts
We are focusing on three words we think describes the coffee well in total. Every coffee is like a book for us. We are buying fantastic green coffee, one perk of that is that we don't need to roast to hide any of the coffees characters, we just want to present it for the product it is, in the best possible way we can.  This is our work every week based on our QC where we are looking at the coffee characteristics and roasting curves with a magnifying glass. 
Same goes for the story and the facts about the coffee. We know the people, we visit their farms, their homes and we are continuously working on improving quality and sustainability through long-term relationships with the producers we are buying from. If you want to know more about the coffee you can find it here on our web-page under "beans" or ping us an email and we can, and love to, talk about it for hours. 
We are buying some nano-lots and some micro lots, to have a little fun. These are usually under the adventures label.
Contact
For any requests, chat about coffee or to receive the latest price list, contact our wholesale person Felipe Conde at felipe@dropcoffee.se at any time. 
It is humbling working with you all, seeing Drop Coffee served in your cafes and restaurants always gives us goosebumps. 
Joanna Alm
and the team at Drop Coffee 
About us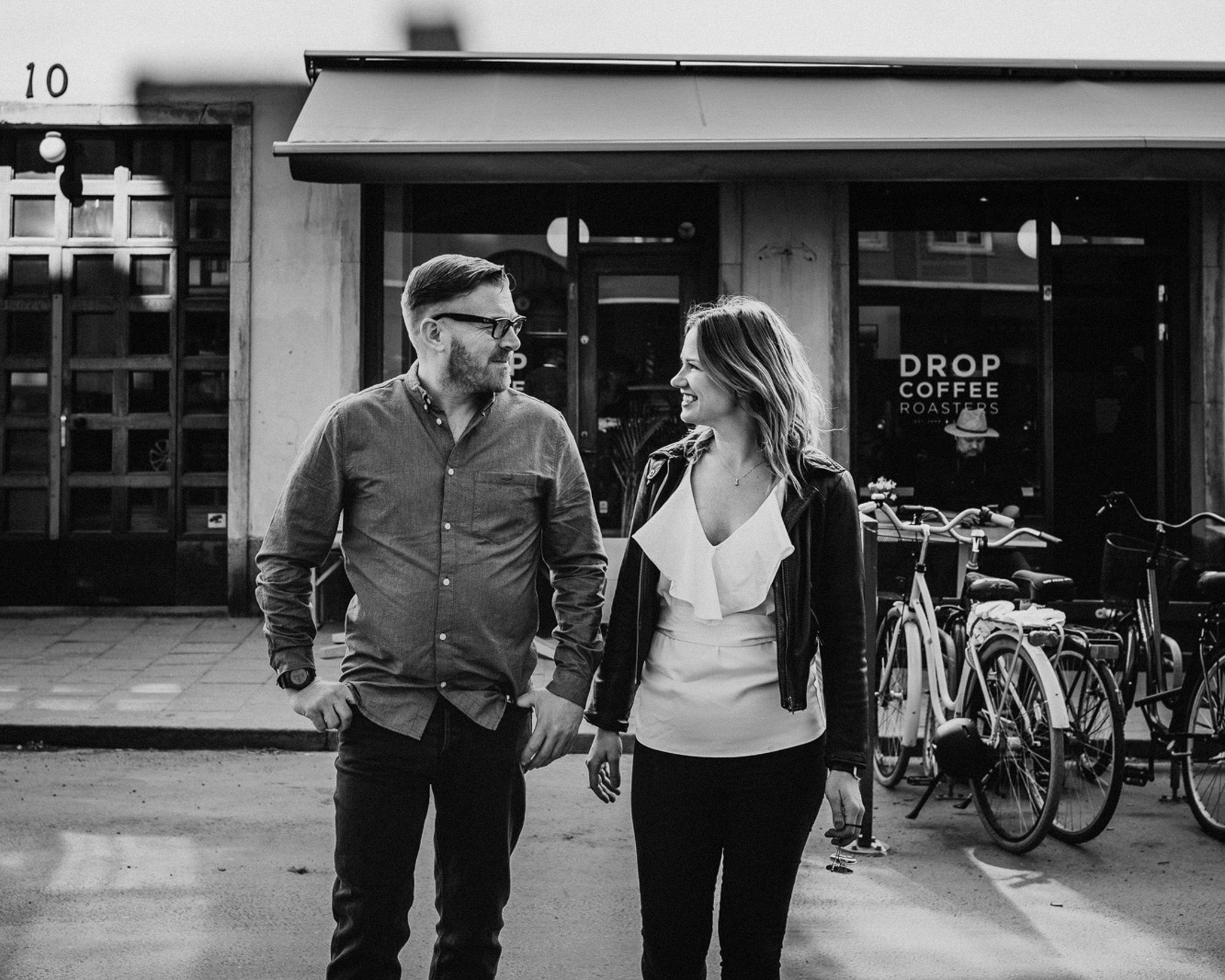 Find out more
Our roastery is located in Rosersbergs Industrial Area, a five-minute drive from Rosersberg train station. We have been roasting all our coffee on our turquoise 25 kilos Diedrich, since 2013.