Bolivia as a coffee producing country
We are now releasing the fresh crop of our Bolivian coffee's, starting off with Carmelita. This is a coffee we've been waiting for for years and wouldn't be done without our partner, exporters and in some cases (La Linda and Alasitas!) producers - Roudiguez. Here is a bit more about Bolivia as a coffee producing country. Generally, the coffees have a bigger body and high sweetness. 
About Bolivia as a coffee producing country 
As you may notice, we have absolutely fallen in love with Bolivia: the people, the country, and their coffee. Bolivia's high altitude, the breath-taking nature, the coffee history, and the quality of the cup with its big and sweet yet clear taste profile makes it a very special place. Bolivia's past is interesting—although it's a commercially viable coffee exporting country, its production has always been small. The conditions are exceptional for growing coffee, but also challenging, and this produces a very rich agriculture built on a long history of farming on a very difficult terrain. In 1991, there was a government-led initiative to encourage the endogenous population to participate in coffee farming, which led to a fractured system counterintuitive to quality. The arrival of the Cup of Excellence Program in 2004 allowed buyers to find the quality coffee for which Bolivia was already known, but that had become difficult to source.  
The main problem for producers was (and, to some extent, still is) that they are unable to make enough money to be sustainable. To subsidise their income, they looked to other crops, mainly coca (the crop that is used to produce cocaine, legal in Bolivia). Encouraged by the government, coca is four times more profitable and is much easier to grow than coffee, sadly this has led to coffee producers turning their back on coffee and abandoning their farms. 
Coca farming involves a lot of chemicals and fertilisers that are not good to the soil and land, so farming coca leaves the soil overworked and infertile. Over time, the coca-farmed land is unusable for any crop. Bolivian governmental support for growing coca has led to a falling-out with the USA, who had previously supported Bolivian agriculture and economy in. The resulting war on drugs in Bolivia has since led to many initiatives to help coffee farmers, with things like the Cup of Excellence being financially supported by USAID.
Roja hitting Bolivia. Riding along in the hills in the Caranavi region it's land of the abandoned farm after abandoned farm and small-scale processing stations. 
As if these difficulties weren't enough to overcome, the arrival of leaf rust in 2013 (a fungus that attacks the leaves of a coffee tree and makes it impossible photosynthesise) meant that the country lost over 50% of its production that year alone. The combination of both government policy and leaf rust means that Bolivia's coffee production has dropped by over 70 % in the last ten years, leaving the county a minor player in the world of coffee. 
This means that we have to pay a much higher price compared to other coffee producing countries, to find the very best coffees from Bolivia. This isn't necessarily a bad thing, the small volume available and current demand for great coffees mean that for once, coffee producers are on the forefront.  
About our exporter - Rodriguez
The Rodriguez family is now well known to the long-term Drop Coffee drinkers. They are our exporter, partner and the ones processing the coffee for surrounding farmers, like our new released coffee from Carmelita. 
They have their own mills, processing and exporting coffee for farmers in the Caranarvi and Sud Yungas region. The family have been sourcing coffee from small coffee producers for three decades, but the steady decline of coffee production has put the sustainability of their export business in jeopardy. Without the intervention of people like the Rodriguez family, however, the future of coffee production in Bolivia is at risk of disappearing.  The family has taken on the challenge of increasing the production of Bolivian coffee by planting their own new coffee plantations but also offering training and agricultural support to the farmers that are delivering coffee to their mill.
 
Daniela and Pedro Rodriguez visiting us and giving a presentation for the baristas at the café in Stockholm 2017. 

Our visits
This is the fourth year we are working and visiting Bolivia. At our annual visits we stay at Roudriguez mill and lab in Caranavi. We cup coffees in the morning and the rest of the days we spend visiting their own farms and the producers we are working with. 
This year we did also play football with all of the producers in the Sol de Manana project in Carannavi. However, not all of the producers, most of the females prefered just watching. I (Joanna) have played football and was keen to play. This was not expected by the audience that lauhed loudly when I had the ball or tackled, but step by step more of the females came onboard and played. We set up one game female to male and played 3-3. 
Sustainability
The Sol de la Mañana is a project that we are taking a part of that was started by our exporter. We are paying more for the coffee to give support to the farmers being a part of the project. The aim is to improve the farmers coffee quality and quantity in an economical and sustainable way and to help them prevent the spread of Roja. 
As a part of the project, the farmers get agricultural support and training. They also have access to plants and seedlings that are more resistant to diseases with several varietals to choose from.
About us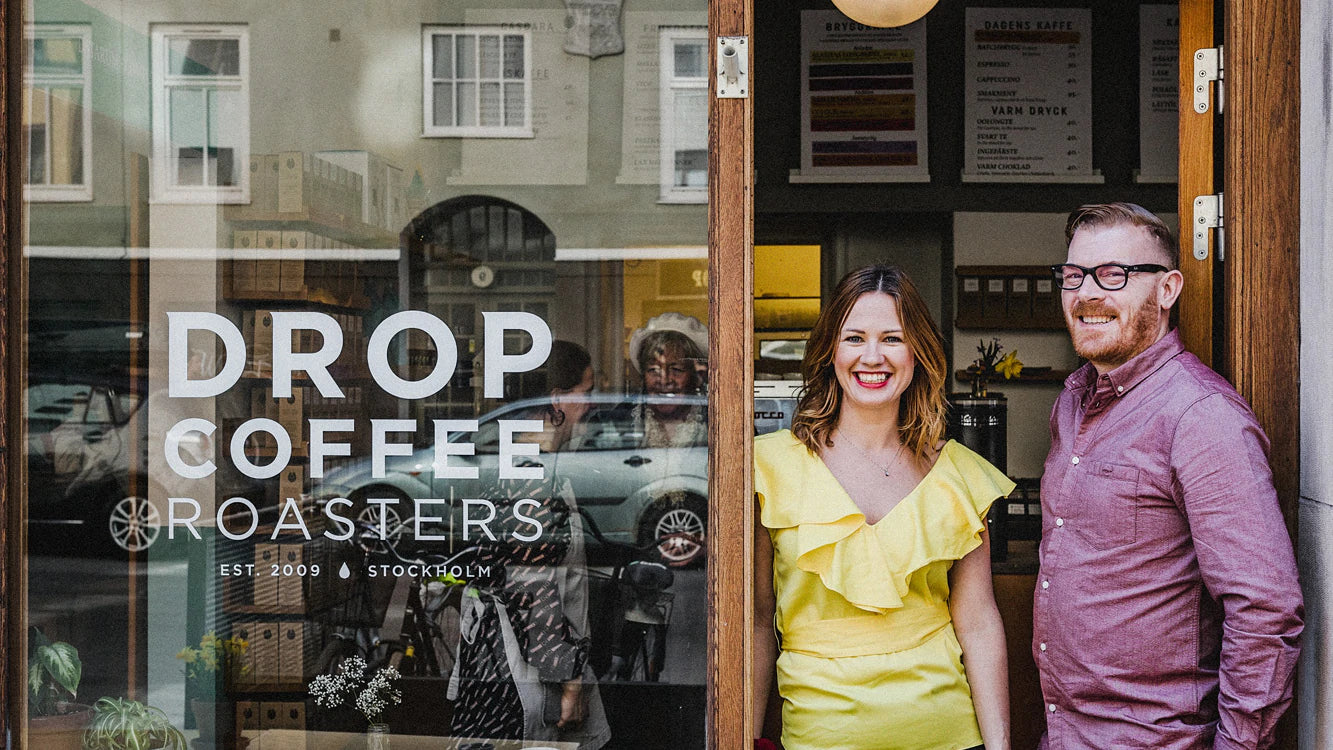 Find out more
Our roastery is located in Rosersbergs Industrial Area, a five-minute drive from Rosersberg train station. We have been roasting all our coffee on our turquoise 25 kilos Diedrich, since 2013.