El Salvador 2016, summery of producers
Last year we focused a lot of energy on building long-term relationships, which means that we have cut down the number of origins we buy from in order to buy larger amounts from a few select producers. One of these aforementioned origins is El Salvador, where we are mainly working with four very different producers and coffees. Here's what we'll be releasing from El Salvador in the next couple of months!
El Salvador is one of the countries suffering badly from leaf rust and, as a result, production at the farm level focuses a lot on prevention. This will mean that the volumes from the producers might go a little up and down in the next couple of years. 
Coffee is an important source of employment in El Salvador, generating close to 135,000 direct jobs, which account for 25% of the agricultural sector and 7% nation wide. There are close to 20,000 coffee producers in the country. Small and medium-sized holdings, of less than 120 hectares, account for about 65% of production. The producers we're working with own farms that are a few hectares and are run as family businesses. 
Through Steve's (new business partner) contacts from a decade of work with producers from El Salvador, we were able to find very good matches for us at Drop Coffee. Here are the four different producers Drop Coffee with whom we've started cooperating:
El Sunzita by Mary and Mauricio Ortiz 
This is a driven couple based in El Pasti in Santa Ana. Mauricio is an agronomist and Mary is his wife doing all the administration for the farm. Their farm used to be blended with Mauricios family coffee, but they now find it more profitable to separate their coffee and work directly with one roaster. At the farm, they have invested in a pulper where they are doing quality control on small lots. They are also building up a nursery to be able to change weaker plants, mainly focusing on El Pasti, since that is the cup they appreciate most themselves. 
This is a coffee coming separated in three varietals from Mary and Mauricios farm El Sunzita. We have been roasting the varietal El Pasti Hybrid, a locally specific Bourbon hybrid named after the region (El Pasti), for a while now, but we're now ready to release all three varieties from the farm side by side: the El Pasti Hybrid, Yellow Bourbon, and Pacas, all of which have been separated for us. Last year, we had these coffees mixed and under the name El Sunza, but this year, all three will be available for a limited time starting this week. 

El Pasti being grown at the nursery on El Sunzita 

The pulper up and running for QC at El Sunzita

San Cayetano by Rafael and Carmen Silva Hoff's
Our other El Salvadorian coffees are also starting to trickle in and will soon be ready for order, including this year's only Natural processed coffee, a red Bourbon from Rafael and Carmen Silva Hoff's farm San Cayetano. It's a juicy and vinous coffee will notes of cherry, strawberry, and milk chocolate. This was one of last year's favourites at Mathias Dahlgren's restaurants in Stockholm, but will be available for all customers this year.
Rafael is almost working too much and too hard at the processing station, but turnout at the processing station is also of a higher standard than I've seen in El Salvador, e.g they have a separate room for the crew to sit and have lunch and rules about washing their hands and hygiene around the coffee. Staff onsite also turn the coffee only by hand, log the moisture at different stages of the drying process, and have access to a great cupping lab with well trained crew in taste and routines. 
Carmen is doing the logistics not only for our purchase, but also for other farmers for whom they process. This coffee is from Carmen and Rafaels own farm, San Cayetano. It's located in extremely steep and windy conditions where the leaves simply blow off the trees, making them weaker and less productive. The neighbours to San Cayetano are suffering badly from leaf rust which easy can be transfered to the plants at San Cayetano by wind. Because of these reasons, the yield is also a lot lower than the potential has been on the farm and Rafael and Carmen are therefor focusing primary on building more windbreakers and to look after the plants extra carefully and often. 

At a windy San Cayetano with Rafael and Carmen 

Rafael processing the San Cayetano lot
Finca Nejapa by Gloria Rodriguez

Finca Nejapa from Gloria Rodriguez in Ahuachapan will also be making a come back. A super creamy and balanced coffee as espresso, Finca Nejapa opens up to an even greater complexity when brewed as filter, giving it great diversity. 
This is one of the few Catarras that has won the Cup of Excellence. The farm is having both Red and Yellow Caturra and also a rare varietal called Elephante that (as the name suggests) are huge beans. These will be separated out from our coffee this year as there is only a very small amount of the Elephante, but it is being grown in the nursery now so that the farm can produce bigger volumes of it in the future. 
We're mainly in contact with Louis, Gloria Rodrigues' son in law. He's trying organic techniques on a few locations on the farms and is currently very focused on the soil. In these areas, which happen to be the lots that are being separated for us, Louis mainly trying to use organic fertilisers. The farm is looking extraordinary healthy with big yield this year, with the only issue being some Ojo de Roja on a few plants. 

Red and Yellow Caturra at Finca Nejapa

Luis showing the moist in the Elephante varietal, having the double amount as the other coffees on Finca Nejapa.


 Los Andes, La Ilusion and Las Brumas by Ernesto Menédez
The forth producer we are excited to be working with this year is Ernesto Menédez, who has become renowned for producing outstanding coffee on his different farms in the Apaneca-Ilamatepec Mountain Range in the Santa Ana region. Ernesto is a previous Cup of Excellence winner and been placing extremely high in the competition with his farms. Ernesto is well experienced as both farmer, cupper, processer, and exporter, which is rare in El Salvador and makes this cooperation very interesting. I would say that Ernesto is as driven to create a tasty cup of coffee as we are ourselves. 
We have been lucky enough to secure several bags from this year's harvest at La Ilusion and Las Brumas as well as the entire harvest from one of Ernestos farm, Los Andes, that is growing Kenya variety.

Finca La Ilusion

Los Brumas with Ernesto



Kenya variety growing at Los Andes 
About us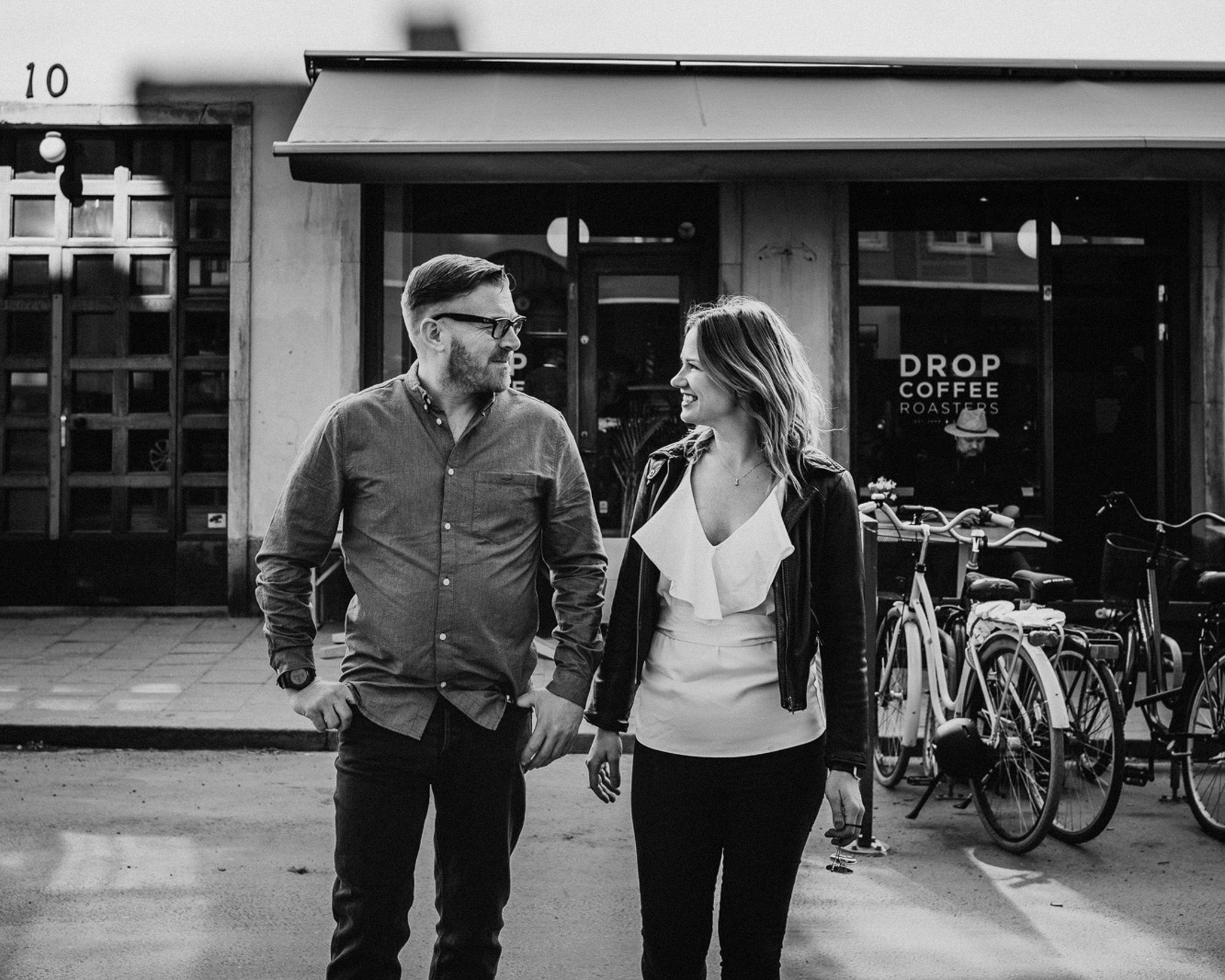 Find out more
Our roastery is located in Rosersbergs Industrial Area, a five-minute drive from Rosersberg train station. We have been roasting all our coffee on our turquoise 25 kilos Diedrich, since 2013.