Vi är väldigt stolta över insatsen i VM! Vi fick ett kvitto på vår kapacitet och kunskap samtidig som kaffet smakade kanonbra. Konkurrensen är tuff bland bara nationella vinnare. I Sverige vann Linnéa med hela 50 poäng, hade Linnéa inte gått över tiden i VM med 31 sekunder hade hon nått topp 15 i världsmästerskapen och hade mjölken varit skummad jämnare hade det varit semifinal. Istället slutade det på en 28de plats med 497,5 poäng. Espresso fick 4 - 4.5 av 6 möjliga vilket är väldigt bra, tekniskt fick Linnéa makalösa 67 av 71 poäng.
Med bara en månads träningstid från SM till VM är detta en kanoninsats. Vi har lagt alla timmar på att förbättra och utveckla presentationen ytterligare från SM, samt konsultning i både Prag och på plats i Seattle av tidigare världsmästaren Gwylem Davids.
Presentationen handlade om service, att som barista kunna ge gästen en upplevelse utöver förväntningarna. Beroende av om gästen har mycket eller lite erfarenhet i specialkaffe kommer förväntningarna att vara olika, men upplevelsen detsamma. 
Vi kan inte vara mer stolta över Linnéa Vannesjö, Sveriges bästa barista 2015! Så modig, klok och talangfull. Ni hittar henne bakom baren på kaféet eller på våra kaffeutbildningar.
Hatten av till Sasa Sestic från Australien och alla inspirerande och duktiga tävlande i VM som fortsätter att puscha den högsta nivå på specialkaffescenen. 
Tusen tack för alla hejarop!
/Joanna Alm, Coach 
-
Artiklar från Barista-VM 2015: 
http://www.stockholmdirekt.se/nyheter/linnea-vannesjo-fran-drop-coffee-pa-soder-kan-bli-varldsmastare-i-kaffe/aRKodh!tnfnMFc7xbtw91IBVyhFXQ/
http://sverigesradio.se/sida/artikel.aspx?programid=103&artikel=6111901
-
We're very proud of Linnéa Vannesjö and her performance in the World Barista Championship 2015. With 31 seconds over time Linnéa didn't make it to the finals this year, however the espresso scored high and her performance was excellent! 
With nearly a month from the national competition this is something we're extra proud of.  By taking help of Gwylem Davids for a two day consulting and spending each awake hour on improve the idea behind the performance and tasting coffee the outcome was fantastic. 
Per usual for our competing baristas the coffee are the once that we currently have on the shelf and is presented in a way we're working with it every day. For the World Championship Linnéa was using two different micro lots from farmers in the Huila region in Colombia; Jose Martines and Didio Ordoñes. 
This year the presentation was about service and how to give the guest something beyond their expectations. Depending on the guests experience one can generally see two groups of guests; one with no previous experience in specialty coffee and another group with a lot of experiance in specialty coffee - caused by this the groups will have different expectations. However, we can please the both of the groups expectations by using the same languish and the same experience. 
We can not be more proud of Linnéa Vannesjö, Swedens best barista 2015! Brave, wise and talented! You find her behind the counter at our café or hosting Drop Coffees courses.
/Joanna Alm, coach
 Linnéa Vannesjö, Seattle 
About us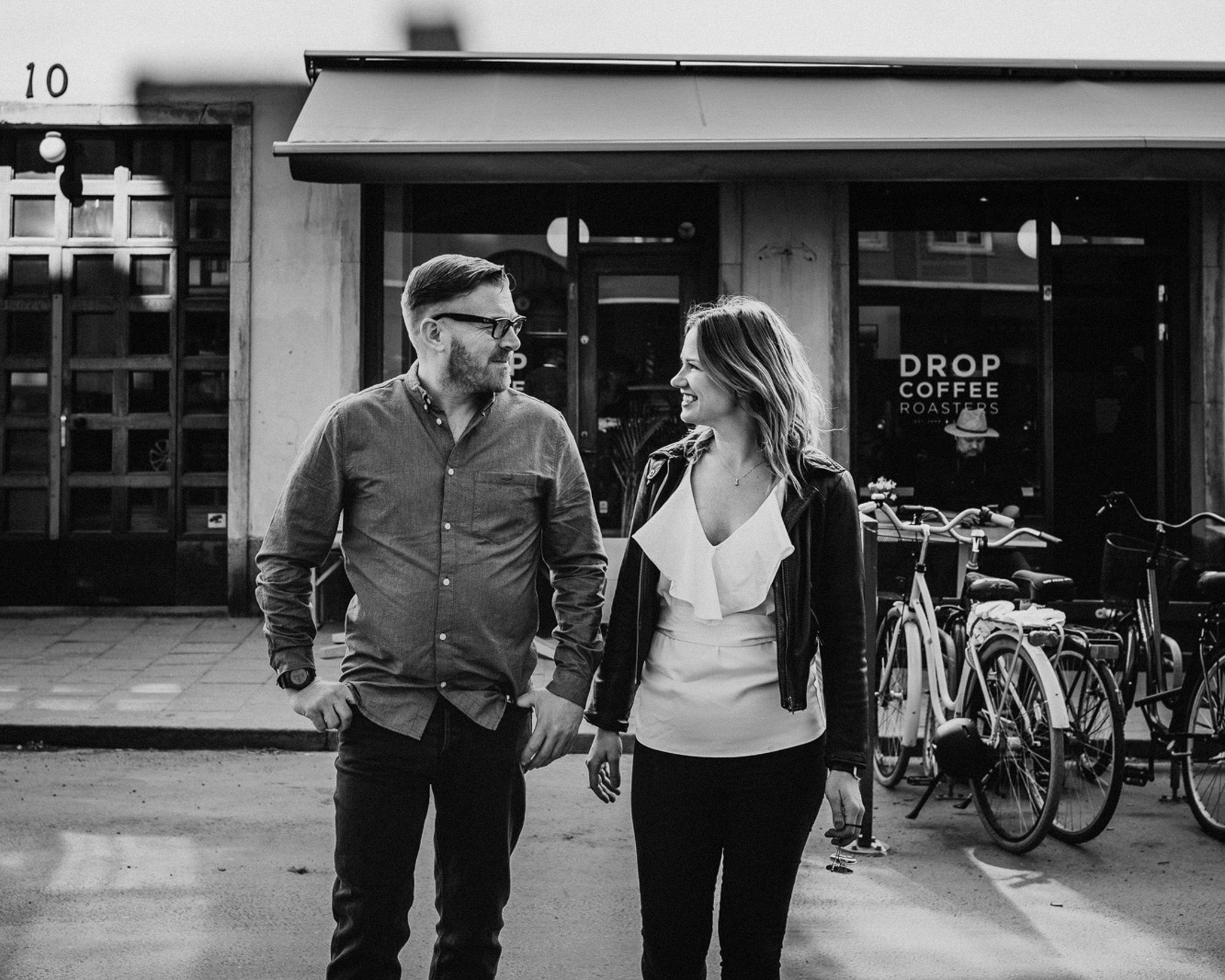 Find out more
Our roastery is located in Rosersbergs Industrial Area, a five-minute drive from Rosersberg train station. We have been roasting all our coffee on our turquoise 25 kilos Diedrich, since 2013.