2013 with Drop Coffee Roasters
Thank you for drinking, sharing and instagraming Drop Coffee in 2013. Thank you for asking about, talking about and giving us feedback on our coffee. Thank you for producing, shipping and taking it through customs. Thank you for ordering, brewing and serving it. 
2013 was the fourth year in Drop Coffees history and the first year of Drop Coffee Roasters. A sunny day one and a half years ago; me, Joanna and Oskar had a typical meeting on a bench on Mariatorget, not even 100 meters from the coffee bar. While our regulars were passing by we decided to do everything we could to get that 200 square meter space in Västberga just outside Södermalm in Stockholm - there we would build our roastery. We also decided to work with Diedrich. What color we would have on the roaster would have to be decided later. We decided to expand the coffee bar we already had and buy the neighbouring space. 
In a few moments Drop Coffee became Drop Coffee Roasters, in our minds. All the work was a head of us. 
Drop Coffee is - in the end - just a cup of coffee. Everything we do is to brew that one good cup of coffee. Our search for high quality beans and sustainable relations with producers, our long discussions about how the perfect internal cupping protocol should look like and even the beer after the staff meeting - it all comes down to that one good cup of coffee. The idea of Drop Coffee Roasters is that one good cup of coffee. 
Finca Tanairy, Arcadio and El Campo from the Caballero family in Honduras in the beginning of the year. Jazmin from Neptaly Bautista as our Christmas coffee in the end of the year. During the late summer also Los Yoyos from Eulogio Martinez. We have discovered parts of Honduras in 2013. The full cup, the tropical fruits and caramel sweetness. But at the same time - the sudden fading quality as the green beans age. 
The challenge to build a modern micro roastery with a very limited amount of invested money turned out to be a greater challenge than we had expected. We had the most essential tools and experience from before. However, the row of investments when the main focus is high quality and a good and inspiring work place is of course without end. Even so, today we have the created a base, the most essential parts of our dream roastery. We have a great 25 kg Diedrich - the color decision being a success - that already has done more to the cup profile than what we could hope for. We have a good space for green bean storage and we have a place open for anyone who wants to discover the world of coffee together with us. In March we inaugurated the roastery on Vretensborgsvägen 17 by hosting the east regional Barista Championship. That was just the beginning. 
Huye Mountain from south Rwanda was one of our favourite coffees this year. Not only does it show how a quality driven development can change the life of thousands when it comes to life quality. It also shows how a controlled and focused work to increase the quality works in the long run. Q-graders, drying tables, educated pickers and empowered farmers have taken Rwanda to the top level of coffee producing countries. We noticed how some within the business almost missed the red currant aroma, the sweet and transparent cup with a white chocolate roundness and the floral finish - because they where expecting for the potato cup. A defect we in the roastery didn't get one single time. In 2014 we will surely return to Rwanda. Not to Huye Mountain though, as someone else with a bigger wallet than ours discovered its quality. But thats exactly how it should be on the free and working market. There is however no need to worry, we have already found something just as good, or even better.
2013 was the year of competitions. On that bench last summer we decided that Drop Coffee Roasters should be active in the Swedish and international barista culture. We went all in and probably had more baristas competing than any other swedish company. In the end our baristas knew more about the product, more about the business and were more professional. This lead us to win three out of four competitions we attended - Swedish Barista Championship, Swedish Latte Art Championship and Brewers Cup. We will have to do better in the Aeropress competition 2014... 
We ended up on a 18th place in
World Barista Championship
and on a 13th place in Brewers. We can't be anything but happy about that. We also returned with a strengthened belief that it is possible to change how we work with and our view on coffee, as long as we do it with good arguments and a better tasting cup. 
Maximo Vela, close to the village Caguancito in Huila, Garzon. Colombia produced one of our best selling coffees this year. Caguancito, as we called it, was a great coffee to discover our idea of how a coffee can be great both as espresso and filter - as long it's quality from the farm is well preserved through process and roasting. Caguancito was our competition coffee in WBC. The idea was to show case a complex espresso and to handle and talk about the character of the coffee with the same respect and open mind as we often do about filter coffees.  Red berries and cacao fruit aroma. Cherry acidity and sweetness of red fruit. Complex, intense, smooth and juicy. Aftertaste of raw cacao.
2013 was the year where we got words on what we had already believed, but maybe didn't understand. In the specialty coffee world, we th
ought we were calibrating and brewing the espresso to enhance all the taste of the coffee, while we were actually just trying to hide the burnt taste of a burnt coffee. At Drop Coffee we always evaluate the coffee on the cupping table - not accepting any burnt notes in any coffee - no matter if it will be brewed as espresso or filter. But the knowledge about extraction has increased the last 12 months and we have gotten much better at brewing the espresso coffee, while keeping the same roasting philosophy as we already had. Read more about our idea in this blog-post. 
2013 was the year when the idea that the crema on the espresso is more important than the after taste was forgotten and died. We hope. 
No country in the world produces as much coffee as Brazil. However, not many Brazilian coffees can be found in the quality range as Fazenda Serra do Boné. Carlos Sérgio Sanglard grows red and yellow Catuai in Mata de Minas, close to Araponga. On 87 of his 160 hectares he grows coffee with a smooth and creamy mouth feel with flavours of walnut and orange. The farm is an example of how coffee benefits from a sustainable production, in balance with the forest and with healthy people working with it.
2013 was a year of building a team of baristas that is stronger than the individuals. We have always believed that the best service will be given by those who share the passion and the knowledge of good coffee. In our small service there is no room for those who don't care to learn, nor for the ones that knows everything without sharing. We couldn't be happier. Adam, Agnes, Alice, Benjamin, Erik, Jakob, Jelle, Johan, Linnea, Lisa, Nagi, Nicolas, Petronella, Philippa, Tora, Viola, and more has made Drop Coffee this last year. In that team we also had
Simon Coffee Made Me Do It Ålander
making everything look good a beautiful new design. 
From Kenya this year we got Tegu and Ndimaini. Two great coffees from the Nyeri region but with very different taste and character. The Ndimaini being more mature and jammy with a hint of mullbery and depending on how we roast it a lemon or lime freshness. Tegu being more traditional with a lovely creamy rhubarb flavour with hints of rosehip and lemonade, aroma of a lemon curd pie. A light body and a buttery mouthfeel.
A great cup of coffee can be made with the most simple equipment. Fresh water and some kind of grinder does most of the job as long as you have the right beans. But for us as professionals the quality in the tools we use is also extremely important. We have during the year enhanced our cooperation with
Espressospecialisten
in Sweden and decided to work with LaMarzocco, Mazzer and Marco among other brands. The last months we have closed the deal with Kalita and will be the national agent for their great products starting the first days in 2014. It's easy to lose focus on the coffee in this business, with loads of potential products to sell to the thousands guests that visit the bars serving Drop Coffee every day. We have of course turned down most offers but decided to enhance the cooperation with the brands that share our idea on what a great cup of coffee is, and how it can be made. In that sense, 2013 was a great year. 
La Folie from Guatemala both started and ended 2013 - two different harvest years of course. The 2012 harvest being a bit brighter with a dark chocolate flavour and the 2013 harvest being sweeter and more creamy. A show case of how delicate the product is, affected by the smallest changes in both weather and process. Our decision not no blend any of our coffees and to always highlight the best in every coffee; that very year, week and day makes this aspect even more clear. We can only serve you what the coffee has - not what we expect it to have.
Direct trade some times sounds like the best way to do coffee business. The idea is that because we can't trust the middle hands - we skip them. A hand shake and a transaction of money and green beans between producer and roaster makes the way to the cup shorter. We do salute the companies that does this in the right way - with responsibility and trust. We also know that only a couple of years ago there where no alternatives but direct trade for the quality driven roastery.
This has changed, increasingly so the last year. What we found being the best for us is a trust based relation trade with sometimes several middle
hands, all doing what they do the best. To make that possible, every person and company between the coffee tree and the coffee cup needs to share the idea of a sustainable, quality driven trade. Knowledge, trust and transparency led us to two very important middle hands this year. A huge thank you to Nordic Approach and The Collaborative Coffee Source for your sourcing, knowledge and hard work.
The world is full of Blue Mountain, some one told me when I was new in the business. The last year we discovered that Ethiopia is full of Geisha. As we learn more about the science of varieties and as quality in growing, picking and processing coffee in Ethiopia continues, it's beyond all doubt that the origin of coffee still rules the world. We started the year with Yukro from the western coffee region Jimma in Ethiopia. The floral aroma and the honey sweetness was just the beginning of what will come from this region that earlier basically only produced semi-low quality of natural processed coffee. But what a difference a couple of years, and a focused and humble quality increasing work, can do. The Debello from the same region that we finished the year with is another example.
But this year we mostly talked about Yirgacheffe. Wote being good, as last year, and our new friend Workye Shallo producing a clean, floral and sweet cup with a wonderful citric acidity. Workye Shallo is one of the first farmers attending the project "One farmer - one roaster". The name maybe being a bit more simple than the reality. Still, this project is turning out to do great things. In November, Joanna visited Workye and her fellow farmers in the project - discussing quality, drying beds and cup profile for several days. Again, specialty coffee makes a difference and we are happy to be a part of it.
In 2013 Drop Coffee reached outside our coffee bar on Wollmar Yxkullsgatan 10 on Södermalm in Stockholm. There have more guests every day discovering our products and learning more about the world of specialty coffee every day together with us. But at the same time Drop Coffee is being served in Berlin, Budapest, Antwerp, London and in a few days also in New York. We feel very humble and proud. Keep giving us feedback so we can get better at doing our part in this long chain of people growing, processing, trading, roasting, brewing and drinking good coffee. And let us know if you want to work with us and our coffee during the new year, serving more people good coffee. 
About us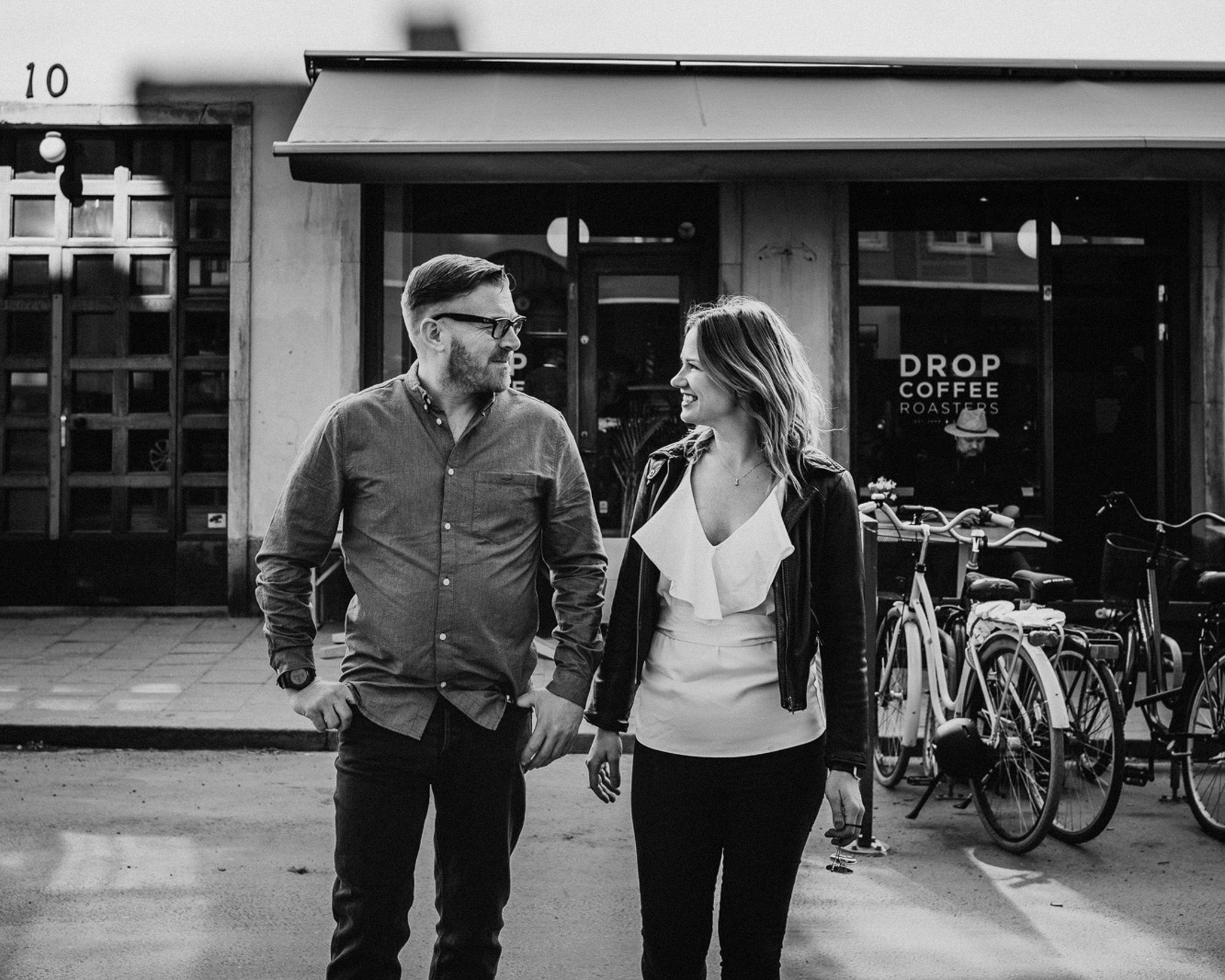 Find out more
Our roastery is located in Rosersbergs Industrial Area, a five-minute drive from Rosersberg train station. We have been roasting all our coffee on our turquoise 25 kilos Diedrich, since 2013.