Kaffe är en dryck, en produkt av människa, maskin och natur i flera led, en tradition och en upplevelse. Kaffe är en idé. 
På Drop Coffee har vi en idé om hur vi vill att den produkten ska se ut och smaka. En idé om en upplevelse.
Det låter högtravande och pretentiöst. Och det är det också. Men vi tycker att det kan vara värt att ha höga ambitioner med produkten kaffe precis som vi har med annat. Vi tycker att det saknas ett alternativ på marknaden där kopplingen mellan producent, produkt och upplevelse är transparent och påtaglig. Inte minst när det gäller espresso.
Vi vet att kaffets underart, dess ursprung och hur det är hanterat är det som i grunden påverkar kaffets karaktär. Skulle det inte vara sant skulle varenda blandning av olika ursprung vara meningslös. Vi vet också att vi vid rosten har en rad olika möjliga sätt att hantera denna karaktär beroende på vad vi vill lyfta fram eller dölja. Detta är grunden till allt de svenska microrosteri som erbjuder så kallat specialkaffe lever på. Råkaffets kvalitet ger koppens kvalitet. 
När vi inom branschen ska smaka på en bryggkaffe bedömer vi koppen utifrån smak och munkänsla - eventuella defekter i smaken och dess eftersmak. Vi konstaterar att ett kaffe är sött men också syrligt, att beskan är låg till medium och ganska angenäm samt att kaffet är lätt och torrt, eller stort och blött. Eller tvärt om beroende på dess ursprung, underart och process. 
Så vill vi att du ska bedöma vår espresso. Hur är just den här koppen och hur känner vi dess karaktär jämfört med andra kaffe? Vi vill att kaffets karaktär ska avgöra om koppen är fyllig eller inte eller om det är sötman eller syrligheten som dominerar. Precis som när vi dricker samma kaffe bryggt på andra sätt. 
Vi tror också att smakerna i kaffet följer med bönorna oavsett hur vi brygger det. Känner vi en smak i kaffet när vi provar det efter rostning så tror vi att den smaken kommer följa med ner i espressokoppen. Vi tror att den går att dölja genom att justera bryggningens parametrar. Men vi vill inte göra det. Istället vill vi ändra bryggningen så att vi får ut så mycket gott som möjligt ur koppen. 
Vi tror att espresso också är kaffe, samma kaffe. Därför rostar vi inte annorlunda för espresso än för alla andra bryggmetoder. Därför känner du kaffets unika karaktär beroende på var det är odlat, vad det är för typ av kaffe och hur det är hanterat i vår espresso. Därför är vissa lätta och söta, andra stora och syrliga. Därför är ibland vår espresso lika god eller godare när den svalnat något - eller till och med är kall. 
Det är vår idé. 
Vill du veta mer. Kontakta oss på rosteriet: joanna@dropcoffee.se eller erik@dropcoffee.se.
-----
Coffee is a drink. Coffee is a tradition and an experience. Coffee is an idea.

Our idea is that every time you get a Drop Coffee - coffee you will experience the origin, the variaty and process of the coffee - also when you get it as an espresso.

We look at the coffee market today and see a growing amount of transparent coffees - but mostly for manual brew methods. When it comes to espresso the idea seemes to be everything but the origin - the body, the crema and the lack of acidity and sweetness. When you drink a Drop Coffee espresso we want you to see what that very origin has when it comes to taste and body. It can be bold with a dominating acidity and it can be light and sweet. We want the character to come from the coffee - not how we choosed to roast it.

Our idea is that the espresso is just another brew method where we will get the same aromas and tastes as we get from the same coffee on the cupping table.

We belive that it's better to adjust the brew recepie rather than the coffee. When we roast coffee we always have thousands of alternatives. We always look for a clean taste with high sweetness and clear acidity. Thats our goal when we roast as well as when we brew the coffee.

So let us know what kind of espresso you want, and we will help you out with origin and recipe.
About us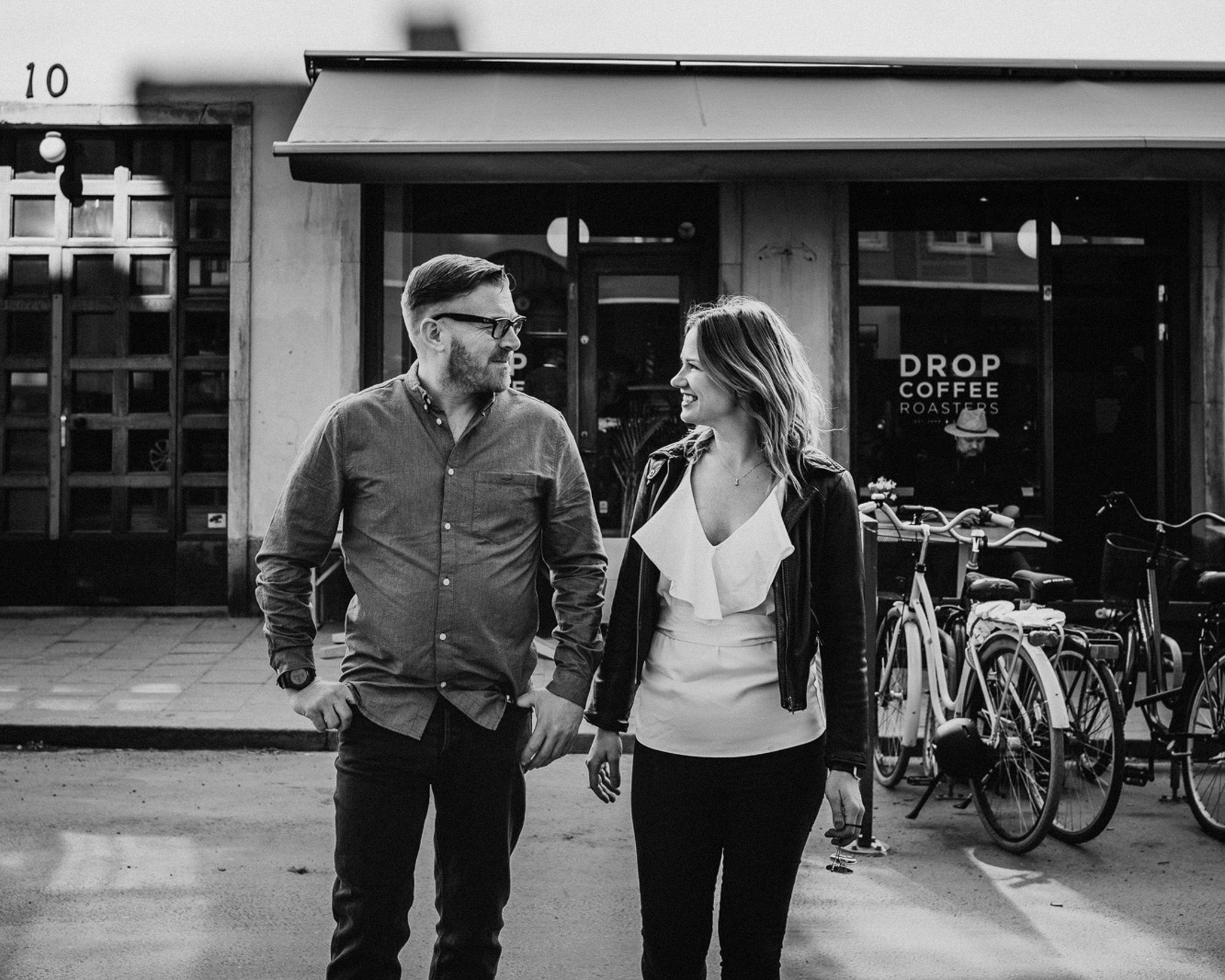 Find out more
Our roastery is located in Rosersbergs Industrial Area, a five-minute drive from Rosersberg train station. We have been roasting all our coffee on our turquoise 25 kilos Diedrich, since 2013.