Alasitas, Washed Gesha, Bolivia 2018
Flavour profile: A juicy yet complex cup. Notes of clementine, jasmine and caramelized sugar. A refreshing finish of lemonade with a cooling aftertaste. 
Colour: Drop turquoise
Category: Adventurous
Producer: Pedro-Pablo, Daniela and Pedro Rodriguez
Location: Bolinda, Caranavi, Bolivia 
Varietal: Gesha
Lot: Mirador
Harvested: July to September 2018
Altitude: 1580 masl 
Processing: Fully washed. The Gesha at Alasitas is picked very maturely for a high sweetness. It is processed in small day lots; the beans are depulped then soaked overnight and dried on raised beds for about 20-25 days. 
Roast: Light to medium to present the characteristics of the coffee.   
*Nano lot!*
Finally time for the Alasitas washed Gesha, it is just a nano lot, we only have 40 kilos of it! The Gesha trees at Alasitas give a small quantity, but the quality is phenomenal. 
The Rodriguez family has planted two kinds of Gesha at their farm, one from Hawaii and one from the well-known Hacienda La Esmeralda - that is the best Gesha growing in the world. This coffee is from the seeds of Hacienda La Esmeralda, planted at Alasitas in 2014. Gesha is a hard varietal to grow and it takes a lot of attention to details. Every year the plant is another year older, and in the case of Gesha we often find it better as the plants are older, and there is no exception at Alasitas.  The exceptional quality is also because Rodriguez continuously strives for higher quality, and excellence in coffee production. Previous years, our baristas have competed with the Alasitas washed Gesha in the Swedish Barista Championships and Mikki Suzuki from Japan placed second in the world barista championships with this coffee. 
About the Rodriguez family
Those of you who been buying Bolivian coffees from us, already know Pedro, Daniela and Pedro Pablo quite well. The Rodriguez family own their own mills, processing and exporting coffee for farmers in the Caranarvi and Sud Yungas region. Since 1986, Pedro has been sourcing coffee from small coffee producers, but the steady decline of coffee production has put the sustainability of their export business in jeopardy. Without the intervention of people like the Rodriguez family however, the future of coffee production in Bolivia is at risk of disappearing.  The family has taken on the challenge of increasing the production of coffee in Bolivia by planting their own new coffee plantations. 
In 2014, they bought land in Caranavi region to showcase their practices and educate other producers in sustainable farming, as well as increasing the overall volume at their mills. They prepared the land on 20,6 hectares and planted Red Caturra, Java and Gesha. The name of the farm is Las Alasitas, which in the Aimara native language means "buy me". 
Sustainability 
The Rodriguez family has in the last three years introduced a sustainability model for the producers who supply them at their mill and built this on three pillars: economical sustainability, social understanding, and environmental awareness - Sol de Mañana. We are also buying coffee from individual producers that are getting extra support from the Rodriguez family in prevention of leaf-rust and how to produce the higher quantity as well as better quality. This year we have bought coffee from Nicolas and Maruja Colque and Carmelita whom are part of the Sol de Mañana project. 
This year their business model got the SCA Sustainability Award for Sustainable Business model. 
The high altitudes in Bolivia (Alasitas at 1580masl), the breath-taking nature, the coffee history, and the quality of the cup with its' clear taste profile making it a very special place. Bolivia's past is interesting—although it's a commercially viable coffee exporting country, its production has always been small. The main problem for producers was (and to some extent still is) that they are unable to make enough money on coffee production to be sustainable. To subsidize their income, they looked to other crops, mainly coca (the crop that is for cocaine, which is legal in Bolivia). Encouraged by the government, coca is four times more profitable and is much easier to grow than coffee, and this sadly led to coffee producers turning their back on coffee or just abandoning their farms. Coca farming involves a lot of chemicals and fertilizers that are not good to the soil and land, so farming coca leads to the soil being infertile and overworked. Over time, coca-farmed land is unusable for any crop at all. As if these difficulties weren't enough to overcome, the arrival of leaf rust in 2013 (a fungus that attacks the leaves of coffee trees and makes it impossible to photosynthesize) meant that the country lost over 50% of its production that year alone. The combination of both government policy and leaf rust means that Bolivia's coffee production has dropped by over 70 % in the past ten years, leaving the county a minor player in the world of coffee. But this coffee is a great example of how phenomenal coffee from Bolivia can be and putting the country on the map for speciality coffee. 
About us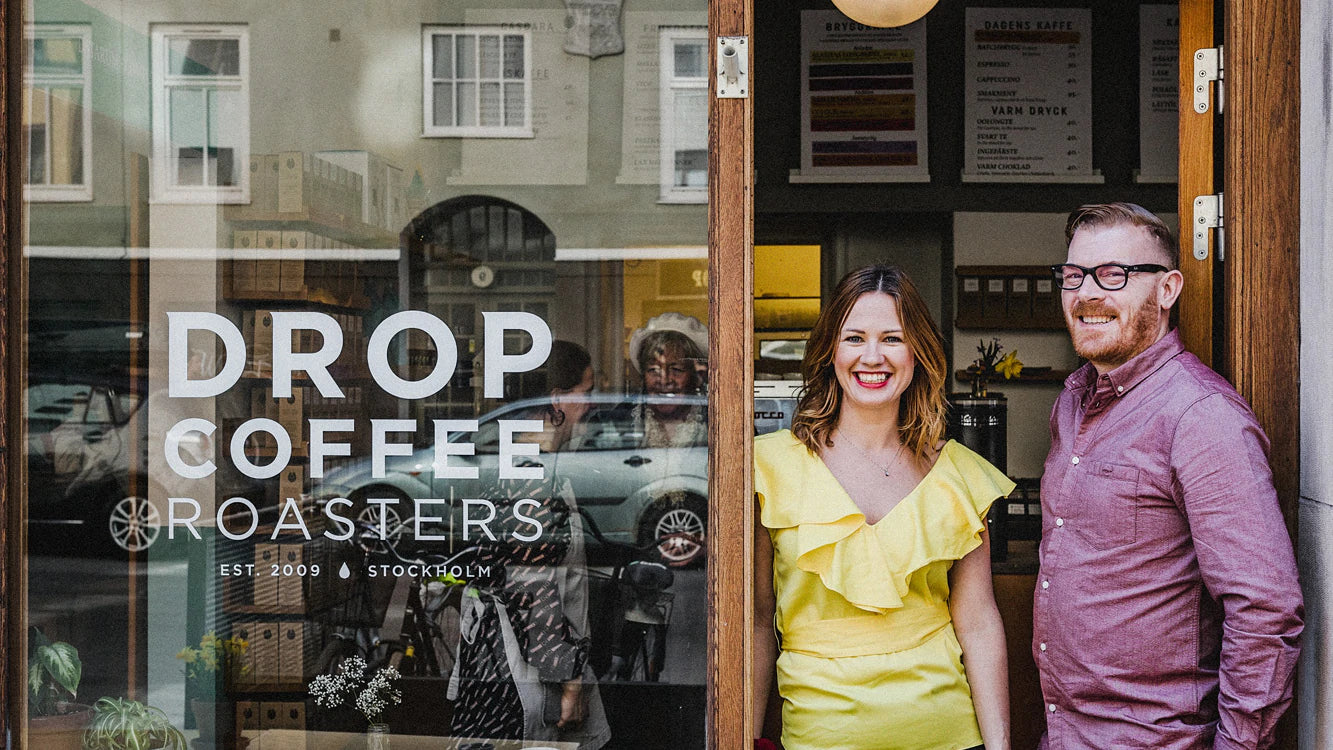 Find out more
Our roastery is located in Rosersbergs Industrial Area, a five-minute drive from Rosersberg train station. We have been roasting all our coffee on our turquoise 25 kilos Diedrich, since 2013.