I år öppnar vi ögonen för vad ett kaffe från Kenya kan vara. Efter att i många år främst köp kaffe från regionen Nyeri, känt för sin klara syra, väljer vi i år att fokusera på övriga regioner; Kirinyaga och Eldoret. Tvättstationen Kamwangi ligger i Kirinyaga, på slättarna av Mount Kenya, på den motsatt sida berget än Nyeri.  Kirinyaga är välkänt för sina komplexa och intensiva kaffen, vilket Kamwangi är ett tydligt exempel på.
Kamwangi Factory startades år 1997 och är en av två tvättstationer som ingår i kooperativet New Ngariama Cooperative Society. Jordmånen i regionen består främst av Nitisol, som ursprungar från volkanisk sten och har kemiska och fysiska egenskaper som passar bättre för kaffeodling än andra tropiska jordmåner. Detta bidrar till den typiska syrligheten som kallas fosforisk och är densamma som vi hittar i exempelvis Coca Cola. 
Runt Kamwagi factory finns 996 bönder, främst småbrukare, som odlar kaffet med ungefär 100 träd var. Tillsammans utgör de Cooperative Societies som fungerar som paraplyorganisationer för tvättstationerna dit bönderna levererar sitt kaffe. När kaffet kommer till Kamwangi factory pulpas skalet och fruktköttet bort från bären. Bönorna betygsätts sedan på en treskalig densitetsskala, där tre är lägsta nivån. De som får betyg ett och två fermenteras sedan separat mellan 24-36 timmar i skugga. Efter fermenteringen tvättas kaffet och betygsätts än en gån efter densitet, varefter kaffet blötläggs i rent vatten över natten. Kaffet soltorkas sedan mellan 12 till 20 dagar beroende på väderförhållanden på afrikanska torkbäddar. När solen står som högst och även över natten läggs ett plastskydd över kaffet.
Producent: 996 småbrukare i området kring tvättstationen Kamwangi factory
Kooperativ: New Ngariama Cooperative Society
Region: Kirinyaga
Underarter: Mainly SL28 and 34, also some K7 and Ruiru 11
Sortering: Peaberry, den minsta sorteringen av bönor
Process: Fermenterad 24-36 hours, följt av tvätt och till sist sköljd i rent vatten över en natt
Jordmån: Nitisol, en röd volkanisk mineralrik jordmån
Altitud: 1600-1800 m.ö.h.
Koppningsanteckningar: Syredriven kopp med smak av rosa grapefrukt och grädde, saftig munkänsla med en lång och klar eftersmak av svarta vinbär.
-
This year we're opening up the picture of what a Kenyan coffee can be. For many years we were mainly buying coffee from the Nyeri region, infamous for its acidic driven profile. This year we're focusing more on Kirinyaga in the central region and Eldoret in the Western part of Kenya.  The washing station Kamwangi is found in the Kirinyaga region, known for its complex and intense coffees. The region is located on the slopes of Mount Kenya, where the soil Nitisol is found, which is developed from volcanic rocks and has better chemical and physical properties than other tropical soils for coffee production. 
Registered in 1997, the Kamwangi factory is one of two wet mills in the New Ngariama Cooperative Society.  Around the Kamwagi factory we find 996 farmers, mainly smallholders, that grow the coffee with around 100 trees each. Together they are organised in Cooperative Societies that act as umbrella organisations for the wet mills to which they deliver their hand sorted coffee cherries for processing. Once at the Kamwagi factory, the skin and pulp of the cherries are removed in a pulper. They are then graded by density into three grades by the pulper, three being considered low grade. The cherries are fermented separately depending on the grade for 24-36 hours under close shade. After fermentation the coffees are washed and once again graded by density in the washing channels, after which the coffee is soaked in clean water over-night. The coffee is then sun dried between 12 to 20 days depending on the weather condition on African drying beds. During midday and night, the coffee is covered in plastic.
Farm: 996 smallholders in the areas surrounding the wet mill Kamwangi factory
Cooperative: New Ngariama Cooperative Society
Region: Kirinyaga
Varietals: Mainly SL28 and 34, also some K7 and Ruiru 11
Grade: Peaberry ,refers to the bean size where of peaberry is the smallest beans.
Process: Fermented 24-36 hours, followed by washing and lastly soaked in clean water over-night
Soil: Nitisol, a red volcanic soil rich in minerals.
Altitude: 1600-1800 m.a.s.l.
Cupping notes: Juicy cup with notes of pink grape fruit, black current and cream. Long and bright finish.
About us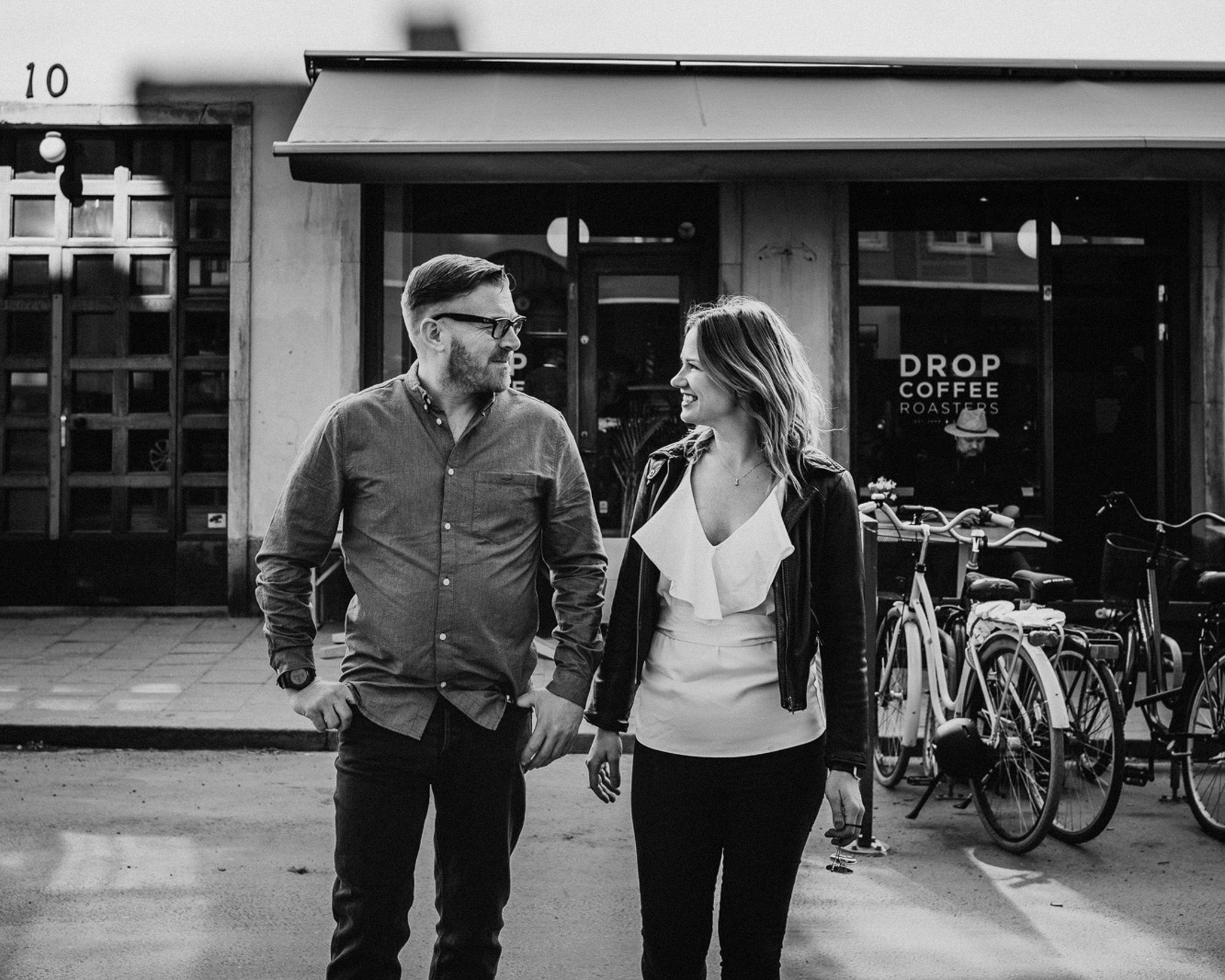 Find out more
Our roastery is located in Rosersbergs Industrial Area, a five-minute drive from Rosersberg train station. We have been roasting all our coffee on our turquoise 25 kilos Diedrich, since 2013.