För tredje året på rad jobbar vi med kaffe från Rwanda, imponerade av dess klara bärtoner och saftiga munkänsla. Kaffeproduktionen i Rwanda är relativt ung, den första privatägda tvättstationen öppnade år 2002. Endast 30 % av kaffet som produceras i Rwanda tvättas helt och exporteras, resterande 70 % processas direkt på gården och säljs lokalt. Idag finns det 200 – 300 stycken tvättstationer runt om i landet med drygt 1000 anknutna bönder per station.

Det här är vårt första kaffet som kommer från Kamiro Washingstation i södra Rwanda, men vi kommer att jobba med de flera år från nu. Nordic Approach är delägare i processtationen sedan 2013. Genom gemensamt arbete stödjer processtationen runt 1000 kringliggande gårdar med utbildning för en lönsam och hållbar kaffeproduktion, i ett samarbete som går under namnet Moderland Farmers. Kaffet kommer både från Motherlands egna gård och en selektion av de allra godaste lotter från de tusen gårdarna runtom, denna selektering kallas för Haute de Gamme (HTG). De omkringliggande gårdarna är småskaliga och har i snitt 170 träd per gård och är belägna på 1700-2000 meter över havet, utmärkta odlingsförhållanden för detta saftiga och bäriga kaffe.
Tvättstation: Kamiro Washingstation
Projekt: Motherland Farmers
Sortering: HDG, Haute de Gamme, en selektion av de allra godaste lotterna blandas till denna.
Underarter: Olika typer av traditionell Bourbon, den vanligaste är BM-139, men varianter som Mibirizi, Catuai och Caturra kan hittas.
Producent: Motherland Farmers egna gårdar samt runt 1000 småskaliga närliggande
gårdar.
Region: Kamiro, Nyamagabe
Process: Kaffebären sorteras för hand, omogna och övermogna bär plockas bort. Skal
och fruktkött tas bort, och kaffet blötläggs över natten. Kaffet tvättas och sorteras efter densitet, där hög densitet klassas högst. När parchmentkaffet fortfarande är blött sorteras det, och kaffe med defekter plockas bort. Kaffet torkas på upphöjda bäddar i 10-15 dagar.
Höjd: 1700-2000 meter över havet
Skörd: april 2014 – maj 2014
Jordmån: Vulkanisk, rik på mineraler och kväve.
Råkaffespårare: Nordic Approach
Smakbeskrivning: Bärig, frisk karaktär med smak av citron, hibiskus och jordgubb. Söt finish av röda bär.
-
This is our first coffee from the washing station Kamiro, located near the village Kamiro in Southern Rwanda, but we will working with for a long time forth.

The coffee production in Rwanda is relatively young, the first privately owned washing station opened in 2002. Today there are 200 – 300 washing stations around the country, In Rwanda 30% of the coffee  produced is fully washed and exported, the remaining 70% is processed directly on the farm and sold locally. Our green coffee sourcer Nordic Approach is a partner and shareholder in Kamiro through a project called Motherland's Farmers, supporting about 1,000 surrounding farms with training for a profitable and sustainable coffee production. Together they have also worked to improve the dry milling process.
 
The coffee comes to Kamiro from both Motherland's own farm and the best selection of the surronding smallholders, this kind of selection is called Haute de Gamme, meaning all the best tasting lots blended into one. The smallholders have an average of 170 trees per farm grown on 1700-200 meters above sea level. Different varietals of Bourbon is grown, the most common is BM-139, but varietals Mibirizi,  Catuai and Caturra can also be found. We get a berrylike, juicy and clean cup.
Washing station: Motherland's Farmers
Varietals: Local heirloom – mainly varieties of Bourbon
Selection: HTG, Haute de Gamme,, meaning all the best tasting lots blended into one.
Producers: Motherland Farmers' own plantation as well as about 1000 smallholders in
the surrounding areas.
Region: Nyamagabe
Production process: Cherries are hand sorted for unripes and overripes before they go
in to production. A Penagos Eco Pulper removes the skin and pulp. The coffee soaks over
night, and are washed and graded in the washing channels in to three grades based on
density. After washing it is being sorted and checked for defects while parchment still is
wet, before being put on the drying tables. Sun dried 10 – 15 days on African drying beds
Altitude: 1700 - 2000 masl
Harvest: April 2014 - May 2014
Soil: Volcanic deposits, rich in minerals and nitrogen.
Green coffee source: Nordic Approach
Cupping notes: Berrylike profile with notes of citric, hibiskus and strawberry. Sweet finish of red berries.
About us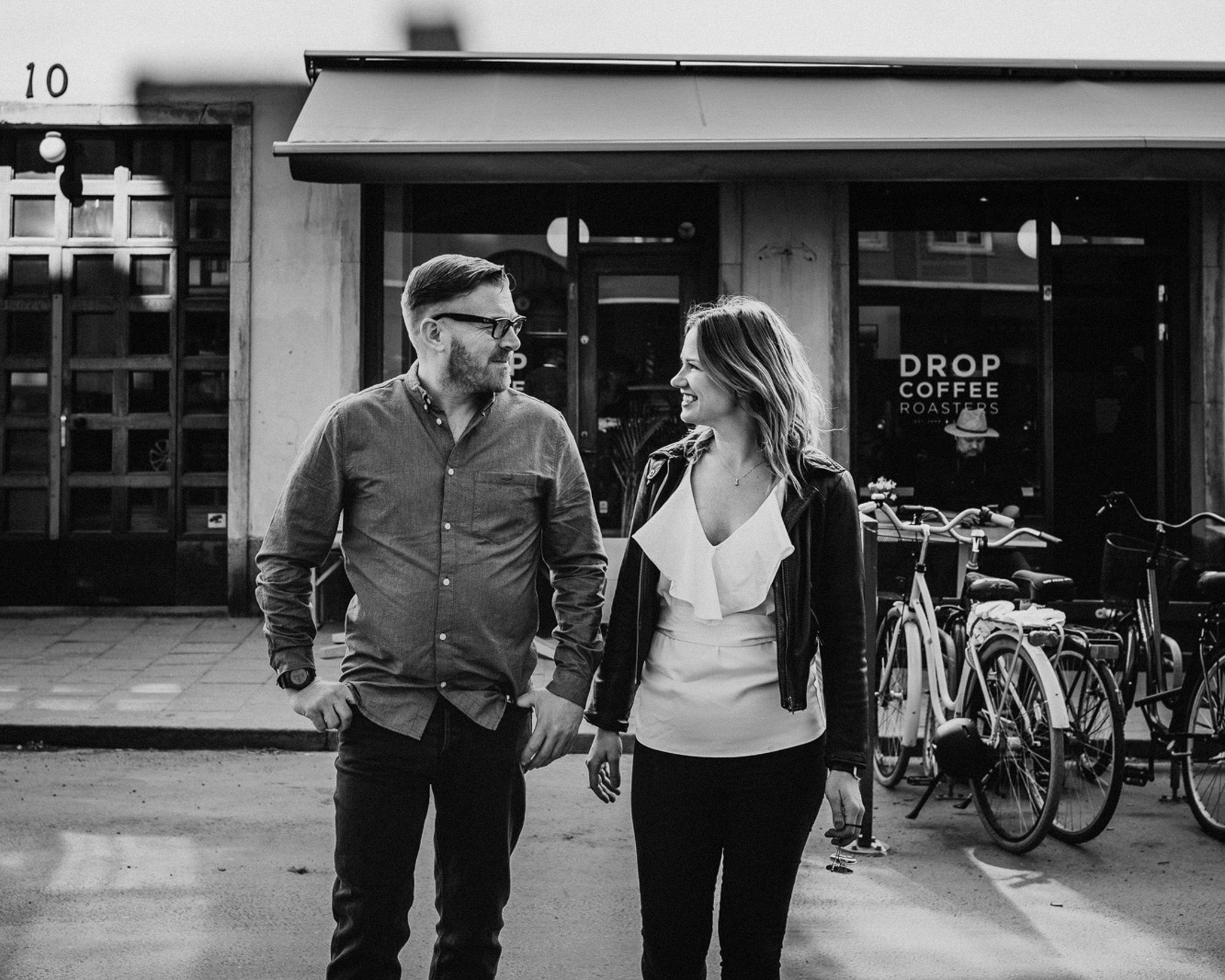 Find out more
Our roastery is located in Rosersbergs Industrial Area, a five-minute drive from Rosersberg train station. We have been roasting all our coffee on our turquoise 25 kilos Diedrich, since 2013.