På Drop Coffee är vi väldigt mån om att jobba färskt med kaffe, målet är att alltid jobba med kaffe som är inom ett år efter skörd och ofta kortare beroende på hur fort kaffet från de olika ursprungen åldras. I flera år har vi med det i åtanke provat kaffe från Tanzania och är otroligt glada över hur bra kaffet smakar i år. Det är med stolthet vi tar in det klara och rena kaffet från tvättstationen Ilomba som första kaffe från Tanzania. 
Ilomba tvättstation ligger i byn Ilomba, Mbozi distrikt i sydväster Mbeya. Gruppen har 24 medlemmar som jobbar ständigt för att hjälpa förbättra kaffeproduktionen och handeln, inte bara åt sina medlemmar utan även hjälper att investera i granngårdarna för att lyfta hela området. 2012 förlorade processtationen sina investerare och slogs därför hårt och hamnade i finansiella svårigheter, vilket ledde till att produktion fall drastiskt från 40 ton om året till endast 4. Året 2013 börjades ett nära finansiellt samarbetet med gruppen Tempo Coffee Company, som hjälpte renovera processtationen och åter igen få upp produktion men även bidrog med mycket kunskap inom jordbruksmetoder. Gruppen producerar nu 20 ton kaffe per år vilket är ett enorm ökning från året innan. 
Mbeya är en av de högsta områden i Tanzania vilket skapar väldigt bra förhållanden för att odla kaffe. Kaffebären tar längre tid att mogna på grund av den höga höjden och därför växer vanligtvis större än bären i de övriga delen av landet. Detta betyder at skörden händer generellt några veckor senare än genomsnitt. 
Underart: Burbon och kent
Producent: 24 olika smågårdar
Produktion: Kaffebären plockas när de är mest mogna och sortera innan de skickas till processtationen för att tvättas.
Process: Bären plockas för hand på gården och skalas mekaniskt, därefter fermenteras dem i 12 timmar och tvättas i rent vatten. Innan torkning sorteras bönorna efter densitet.
Skörd: Oktober - November 2014
Råkaffespårare: Nordic Approach
Espressorecept: Kaffe: 18 g, Total vikt: 38-40g, Extraktionstid: 28-30 sekunder, TDS: 8,5 - 9% Extraktion: 20-21%
Smakbeskrivning: Krämig med medium kropp och livlig syra. Läskande syra med toner av röda vinbär, vanilj och fläderblom
-
Ilomba washing station is located in Ilomba village, Mbozi district in the South Western area of Mbeya in the high lands of Tanzania. The organisation consists of 24 members, or smallholders, and is fully voluntary; acting as a force for improving coffee production and marketing, not only for it's members but even using it's facilities to help invest in the quality of their neighbours produce, helping to improve coffee production in the entire area. After losing investors in 2012, production fell drastically from 40 metrics tonnes to only 4 the following season, mainly due to lack of financing. In 2013, however, the group entered a business relationship with Tempo Coffee Company , whom helped invest in the renovation of washing stations and even provided input into agricultural practices, in order to help boost production once again. The group is now producing an average of 20MT per year, greatly improving from the 2012 season.
The area's high altitude helps to differentiate it from other areas of coffee production in Tanzania. This delays the harvest and leads to increase in beans-size and quality.
Varietal: Bourbon and Kent
Producer: 24 individual smallholders
Production: Coffee cherries are picked when ripe and sorted before being delivered to the washing station and collected together for processing.
Process: The cherries are handpicked by the farmers before being graded and the pulped mechanically. They are then fermented for 12 hours and washed in channels, there after being graded according to density and dried on raised beds.
Harvest: October - November 2014
Green coffee source: Nordic Approach
Espresso recipe: Dose: 18 g, Beverage weight: 40 g, Extraction time: 29 seconds, TDS: 9, Extraction: 20% - 21%
Cupping notes: Smooth mouthfeel with a medium body and sparkling redcurrant acidity, really holding up it's own against coffee from it's African neighbours. Soft and subtle finish with notes of vanilla and camomile.
About us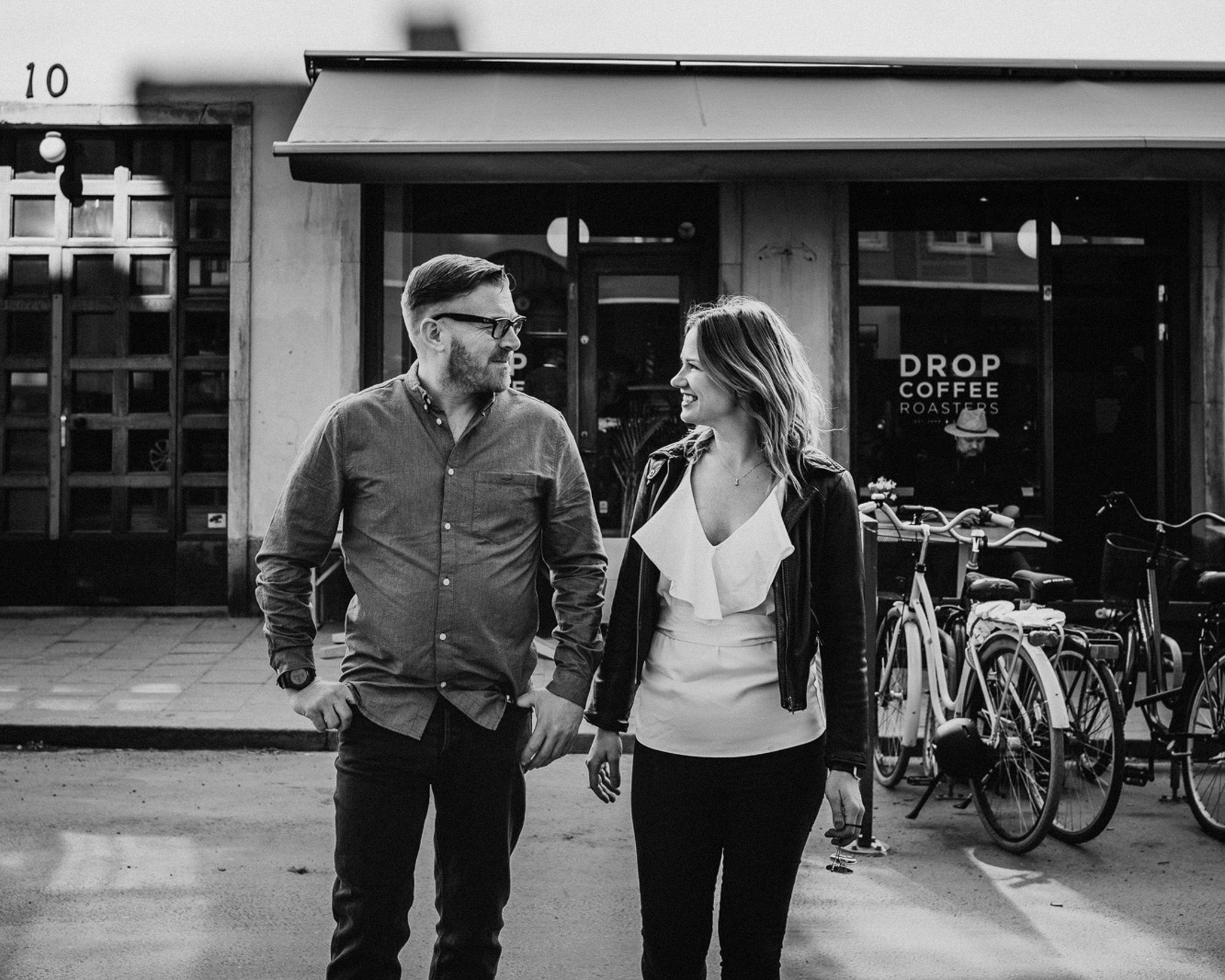 Find out more
Our roastery is located in Rosersbergs Industrial Area, a five-minute drive from Rosersberg train station. We have been roasting all our coffee on our turquoise 25 kilos Diedrich, since 2013.