Flavour profile: A cup full of citrus fruit. Ana Sora has an aroma of pomelo and bergamot. Flavour notes of lemon zest and black tea, with hints of papaya and white florals and a long-lasting vibrant acidity. The coffee has a juicy mouthfeel that together with the high acidity reminds us of Fanta Lemon. 

Colour: Vibrant orange
Category: Curious
Farm: Ana Sora
Producer: Israel Degfa 
Varietal: The varietals planted at Ana Sora are 11/714 and 74120 which are hybrids of local landrace, as well as some Indigenous varietals
Processing: Washed
Area: Guji zone
Nearest town: Yirgacheffe
Founding year: 2013
Elevation: 1900 – 2350 meters above sea level 
Farm size: 250 hectares, of which 150 is coffee
Price transparency: The FOB price we paid for this coffee was 3,3 US$/lb
Roast style: Light to medium to enhance the natural sweetness of the coffee. We love it as a brewing method if you like vibrant and high-acidity coffee.
Ana Sora is the highest-grown coffee we buy, at an altitude of 2350 meters. That the coffee is this highly grown, makes the coffee cherries mature slower, but also it takes longer for the coffee beans to ferment and to dry on the drying tables. The altitude gives the coffee lots of acidity and vibrancy on its own and being the washed version of Ana Sora you can expect the citrus fruits to really pop.
Ethiopia is a poor country, producing amazing coffee. The frustration of visiting, and seeing the living standards in terms of access to clean water and electricity, is overwhelming. This is one of the biggest reasons we have the trust of working with Israel Degfa. He is working hard to get people out of poverty through coffee and creating working opportunities by opening process stations in areas where no other work existed, as at Ana Sora. All of the workers are registered and covered by the certifications, organic, and rainforest alliance. Nearby Ana Sora there is a school called Yerba Buleye, which works with the farm to teach the children how to work and farm coffee. Ana Sora also supports an orphanage school in the neighboring village.
About Israel Degfa and Ana Sora farm
Most coffee in Ethiopia comes from cooperatives, not private farms. Working with Israels' private farms makes it easy to maintain our relationships and keep in contact with the producer. But mainly, because we have a lot of trust in the way he is working with all the people he is employing and his vision for society. 
Israel was born in a village called Kershanse near Sidamo, Yirgalem, and his parents were both in coffee in different ways. His mum sold coffee at the bus station and his dad was a farmer. But he also saw them suffer from political actions and how his grandma lost growing land. All of this inspired Israel to work in coffee. He studied primary school in Yiralem and went to high school and college in Addis Abeba.  In 2013 Israel founded the company: Kerchanshe trading company that is named after the nearest town, Kerchanste (fondly referred to as Kercha). Today he has 48 washing stations (!) and five dry mills, striving to add more value and more work opportunities in small local areas that are suitable for coffee production. 
Six years ago Israel started clearing the wild forest to plant coffee plants that are now known as Ana Sora. Israel and his team started teaching local farmers how to grow coffee, so they could expand their crops from only corn, and now there is an abundance of coffee being grown at this high. The coffee trees are tightly planted, with the idea that they could shelter each other from the harsh weather, and all survive, and it seems that they are all thriving today! All the replanting is done with Heirloom 74120 as it is resistant to frost and Coffee Berry Disease. 
Ana Sora is built up to produce mainly specialty coffee. When we started working with Ana Sora, the coffee cherries were being delivered to another washing station by truck. With bad roads and high altitude, this was challenging, and if it rained it was impossible. We are beyond excited for the process- and drying stations now built and in use at Ana Sora. But also because we are amazed by Israel's processing standards. 
Sustainability at Ana Sora 
The surrounding land of Ana Sora is populated by smallholder farmers who are of Oromo ethnicity and speak mainly Oromo. Israel believes in helping those farmers with education in husbandry and financial assistance. He feels this is the only way to produce sustainable coffee in Ethiopia. The pickers and all of the workers are registered and covered by the rainforest alliance certification. 
Turo is a river that runs along the side of Ana Sora, and where they get their processing water from and they are filtering the water before they give it back to nature. Nearby Ana Sora there is a school called Yerba Buleye, which works with the farm to teach the children how to work and farm coffee. Israel also supports an orphanage school in the neighboring village.
The FOB price we paid for this coffee was 3,3 US$/lb. 10% of the profit of Israels company Kershanse, is going to his charity company. With this company, he is building roads, investing in schools, and is currently working on a water cleaning system for the local communities. 
About us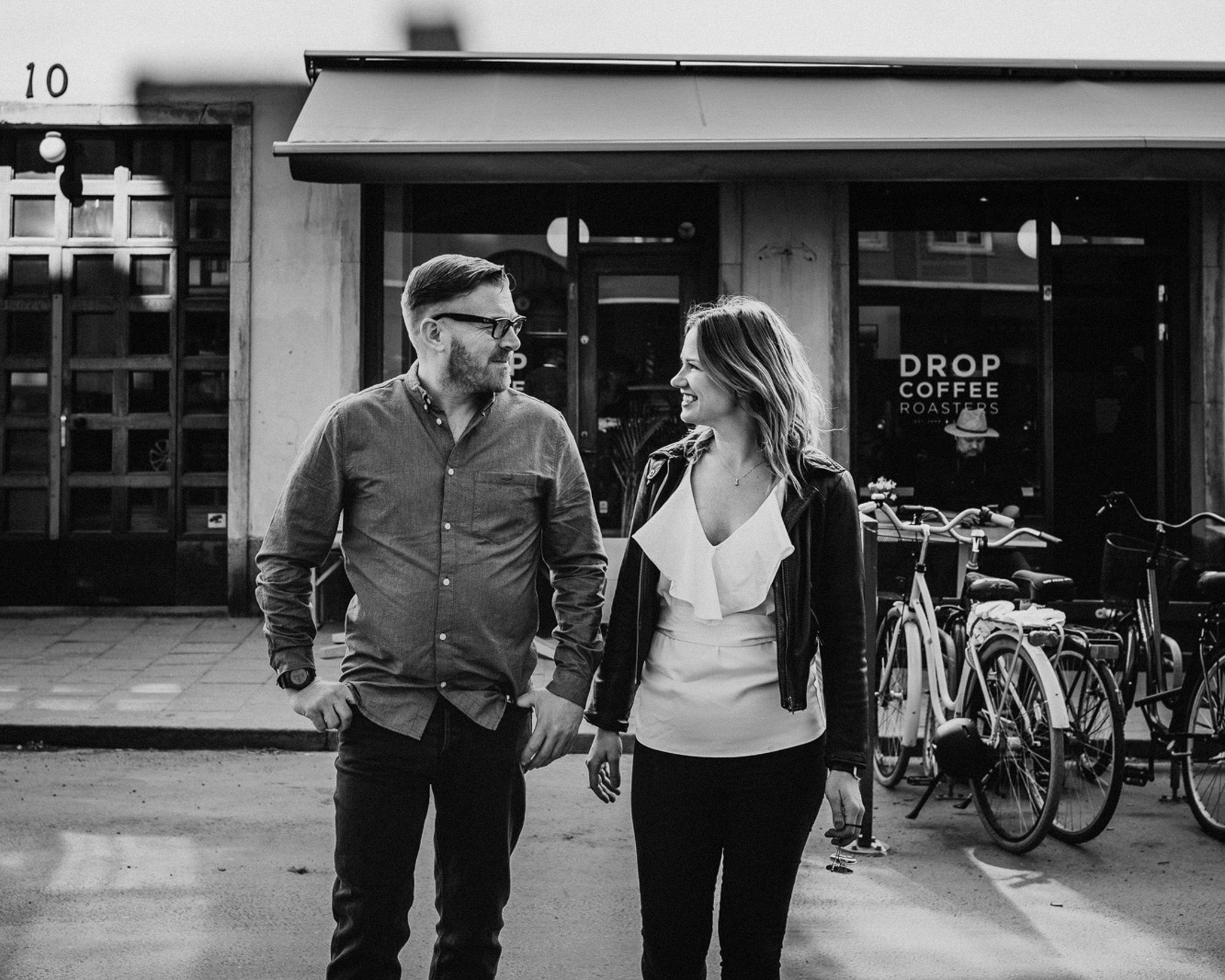 Find out more
Our roastery is located in Rosersbergs Industrial Area, a five-minute drive from Rosersberg train station. We have been roasting all our coffee on our turquoise 25 kilos Diedrich, since 2013.